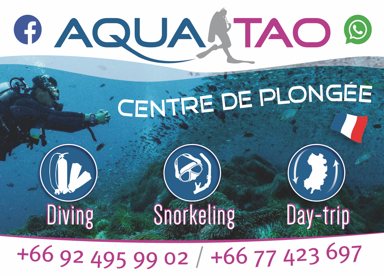 AquaTao, Your french diving center in Koh Tao
Wants to dive in a family and friendly dive center?
We would like to introduce you to AquaTao. Since 2012, this diving center offers SNORKELING tour and professional and Leisure diving training (First dive, Open Water, Advanced Adventurer, Stress and Rescue, Divemaster...).
It has professional equipment from Scubapro brand, a DYNAMIQUE and AWESOME team will make you discover all the beautiful submarine places to dive in Koh Tao. Certified SSI, you will be able to DIVE over the world.
PROFESSIONALISM, PLEASURE, SHARING, and FUN will at the RENDEZ-VOUS!
Because we are all concerned about the protection of our environment, adopt a responsible behavior…
SAY NO TO SINGLE-USE PLASTIC!