BOOK NOW   >   ANG THONG PRIVATE TRIP
Ang Thong National Park Expedition
Private Trip - 3 Days / 2 Nights
---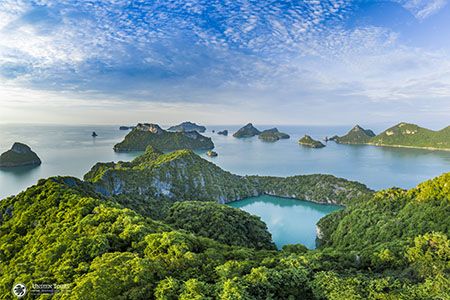 Our private cruises are flexible, the itinerary and duration can be suited to your needs. For information, don't hesitate to contact us! ( info@unseentourskohtao.com )
Trip Information
This is our best trip to Ang Thong National Marine Park in 3 days / 2 nights Expedition Safari.

All-inclusive. Including all meals.
Beers ($) and Soft Drinks ($) are available for an additional price.
Destination:
Mu Ko Ang Thong National Marine Park
Departure:
Meeting Time: 08:45 am
Departure: 9:00 am
From Koh Tao - Our Shop is located in Mae Haad ( Location )
Day 1
Cruising to the Ang Thong National Park, approximately 3hrs, depending on the weather.
Stop between koh tao and ang thong to koh wao or koh Nippon for snorkelling and lunch on the boat
Kayak exploration around the islands.
Lagoon viewpoint.
Dinner on the boat
Sleep on the boat
Day 2
Breakfast
Trekking to the viewpoint on the main island (40min hike)
Lunch on the boat
Kayak exploration
Enjoy the beaches
Sleep on the boat
Day 3
Breakfast
Trekking to the Bua Bok Cave (20min hike)
Monkeys sightseeing
Lunch on the boat
Travel back to Koh Tao
Return around 4h30pm at the departure point
Transfer To Koh Samui
Note for those who wish to have a transfer to Koh Samui, we drop you at the main island around 12:00, the boat leave at 3pm and arrive at Koh Samui Nathon Pier around 5pm. This transfer is at your charge and cost 520THB / person
What To Bring:
Walking shoes
Sunblock
Hat/cap
Towel
Clothes for 3 days
Sleeping On The Boat:
For the nights on the boat, we sleep on mattresses or in hammocks, we also provide sheets, blankets and pillows.
There is shower on the boat, don't forget your towel.
Cancellation
Cancellation: We will refund the entire deposit only if we have to cancel the tour due to bad weather.

Should you cancel the trip we won't refund the deposit but you will be able to use the deposit for another booking within 6 months from the departure date.

This program is subject to change, depending on the weather or the big tour companies. we try as much as possible to avoid the tourist flow. We visit all the tourist attractions and much more during the trip.

Depending on the weather, we sometimes need to leave earlier in the morning to avoid the big waves on the way back to Koh Tao, we then spend the rest of the day snorkeling around Koh Tao.
Please, select a date above for booking.
Special Discount for groups:
---
Group between 6 to 12: additional passenger 9,900THB
(per person)
With friends or family, explore Ang Thong National Marine Park at your own rhythm in complete exclusivity and enjoy having a good time with those you love. No program, we go where YOU want!
Would you like a joint trip? Click here.
Destination:
Mu Ko Ang Thong National Marine Park
Rate(s):
**The initial price of the private trip is 60,000 thb for 5 people. Additional price applied for an additional passenger. Please check the list below.
Maximum: 12 passengers
---
Rate:

60,000THB

**For a group until

5

passengers

additional +

9,900

THB per person
---